IT Challenge
2023
The Challenge is split into 7 main phases.

Time left for the Awards Ceremony
Idea
Submission
To come up with an innovative concept for an application based on challenge theme
First
Jury
Dec 1, 2022 - Dec 15, 2022
First Jury made of the Atos Scientific Community members select ~15 best concepts
App
Development
Dec 16, 2022 - Apr 2, 2023
15 Shortlisted teams work on their app development with the help of an Atos SC coach and Alumni coach
App
Delivery
Apr 3, 2023 - May 11, 2023
App testing in Atos Competence Center
Pre-Jury
Selection
May 12, 2023 - May 22, 2023
The 15 teams pitch their ideas in front of IT challenge team and selected SC members, down selecting 5-8 teams to present to the final jury who will select the 3 finalist teams
Final
Jury
11 days
remaining
May 23, 2023 - Jun 21, 2023
The shortlisted teams pitched their ideas in front of a Final Jury who will select the 3 finalist teams
Awards
Ceremony
Jun 22, 2023
The 3 finalists are invited to the Awards Ceremony
The Metaverse – New experience for business ecosystems
There is great interest in the technology industry regarding the "The Metaverse", but what is the Metaverse, and what does this mean in a business context?
Can we build applications and systems that deliver business and commercial value with, or within, the Metaverse?
The aim of this year's Atos IT Challenge is to produce an application that demonstrates a practical Metaverse use case that will deliver business value.
Metaverse in business – Exploring new modes of working
New modes of operating

With the generalization of hybrid virtual and physical processes

New modes of relating

Between humans and robotic entities, through augmented reality and eventually brain-computer interfaces

New modes of value and business

Leveraging a new generation of business ecosystems which leverage data marketplaces

New modes of being

Helped by AI, with new virtual expressions of our human existence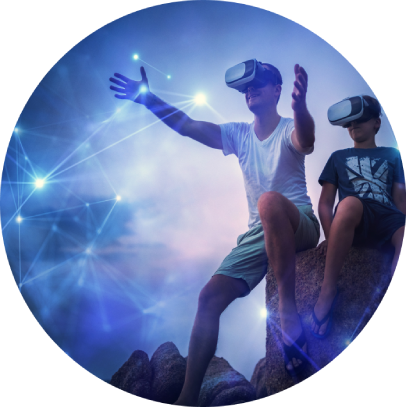 Technology – Areas of investigation
Possible area of investigation:
Digital Twins and digital worlds (Operating)
Computer interfaces (Relating)
Data ecosystems and economies (Value)
AI (Being)
Technologies of interest:
VR/AR/MR platforms – Oculus Rift and Quest, Microsoft Hololens, Valve Index, HTC Vive and others
Universal Scene Description (USD) specification for 3D computer graphics interchange
Blender, Apple's Scenekit, Autodesk 3ds Max
SteamVR, OpenXR
Blockchain and NFTs
Possible applications –  ideas to get you started
Use of Virtual reality, Augmented Reality or Mixed Reality systems to provide new business working environments
Interaction with, or complimentary functionality, for collaboration technologies such as Microsoft Teams and Zoom
A Metaverse match-maker; facilitating one-to-one introductions of business colleagues
New education and training experiences
Visualization and modelling of real-world systems
Market-specific applications in, for instance, Healthcare, Finance, Manufacturing, Transport, Retail…
A simulated virtual economy for the Metaverse
A business-oriented version of Sandbox
Additions to existing Metaverse environments for business applications
Note: The use of Virtual Reality and other similar platforms is welcome, but this is not a requirement to enter the Atos IT Challenge – other project concepts within the Metaverse theme have equal merit.
We look forward to receiving your submission ideas and seeing you bring them to life!
Discover

the 3 Finalists

Finalist

Finalist

Finalist